Welcome to Pampered Paws Dog Grooming in Perth
At Pampered Paws Dog Grooming in Perth we believe that your dog deserves the best! ..and that is exactly what we offer! We offer a personalised, friendly one to one service with breed standard or your specification cuts. We welcome all breeds & sizes of dogs, to our safe, clean comfortable and friendly grooming salon.
For all enquiries please contact Jen on 07948 798 024
I look forward to meeting you and your dog at Pampered Paws dog grooming salon in Perth. Where I will ensure your pet is cared for with the love and respect they deserve and leave the salon smelling and looking their best.
Services
Bath & brush up

Shampoo, conditioning treatment, brush, blowdry and style. Nails trimmed and a spritz of cologne. Ideal treatment in between regular grooms to keep coat healthy and matt free.
Bath & de-shed

Shampoo, conditioning treatment, de-sheddding treatment, brush, blowdry and style. Nails trimmed and a spritz of cologne. Ideal treatment helping to reduce casting in the home.
Full groom

Shampoo, conditioning treatment, brush, blowdry, clipped, scissored and styled. Nails trimmed and spritz of cologne.
Hand-stripping

Handstrip, nails trimmed and spritz of cologne.
About Me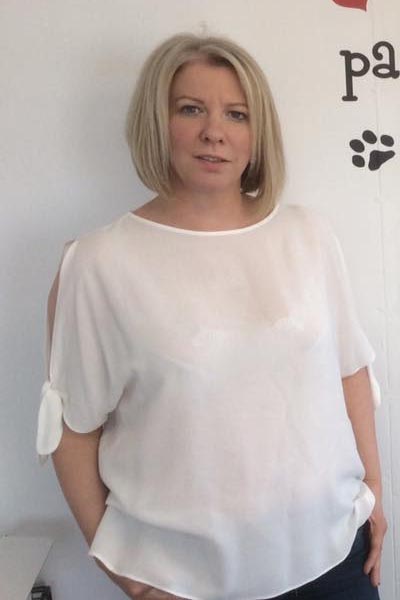 My name is Jennifer and I have given up a career in social care to follow my passion and work with dogs. I can't walk past a dog without smiling and saying hello.
I've always had pets as my mum loved cats and my dad always had dogs. I couldn't imagine life without a pet and I currently have an Australian Labradoodle called Rosie. I have been trained in all aspects of dog grooming by award winning groomer Agnes Murphy at Scotgroom and I complemented this training with further courses in pet psychology and first aid for dogs. I have a City and Guilds qualification in dog grooming.
I believe in putting the dog in the centre of what I do and ensure your pet is cared for with love and respect. I only use kind and gentle methods that put your dog at ease.
I have invested in the best training available in Scotland and precision grooming technology to ensure that your pet receives a premier grooming experience.
I look forward to seeing you at my salon for your dog's next groom.
Testimonials
Richard Hodge
Someone who takes an interest in your dog and it's history, listens to what you want and does exactly that. Also makes the dog feel "at home" and that it is important.
Can't fault the service at all.
Stephanie Sloss
Took my mums dog Freya to Jen and she was amazing with her, so gentle. Freya was long overdue a haircut and needing a good bath. When I picked her up she looked gorgeous and smelled fabulous. Would highly recommend Pampered Paws Perth
Craig Duncan
Jennifer is fantastic with our dogs and gives amazing haircuts. They're so content around her and we're thrilled everytime with the results!
Sam Holt
Bertie had his first groom today and couldn't have asked for a better experience; made him feel at ease and he is looking very dapper now!
Stacey Gow
Cody & Lilly loved there pamper day. It's so nice to know there in safe hands and being cared for by a true dog lover. The area there groomed in is so clean & I've never felt so happy or relaxed leaving them as I do here. I have re-booked them both in.
Jade Nicholson
Brilliant service took our Wee 4 month old puppies dolly and Dexter for their 1st cut today and will defo be back, thank u Jennifer they will be a lot cooler with all that hair off and they can now see xx xx
Rae Alexander Peacock
Lachie not only had an amazing haircut, he was happy and content afterwards- he's normally nervous. We re-booked, very happy with the brilliant job Jennifer made!
Paula Kinloch
Brought our wee puppy Cooper to Pampered Paws for a haircut and he looks fab! Jen was very friendly and done such a great job! Highly recommended and will definitely be back thanks x
Laura Barr
Warm welcome when we arrived for appointment. First time I'd taken Fern to be handstripped but felt totally at ease leaving her. Jen did an excellent job and our dog has received loads of compliments. Highly recommend!
Catriona Revill
Took my Mum's dog Poppy to see Jennifer today. Absolutely fantastic job, service and very friendly. Highly recommend to everyone. Poppy look fab, see you soon for Piper
Lee Tracey Nicholson
Bella came home all lovely, neat, soft and clean. Excellent price for everything. Definitely be back
Annmarie Blues
Took my wee dog Odie in for a haircut today and he looks great. Fab haircut and lovely friendly groomer. We'll definitely be back